Metal Roofing Contractor in Eastern & Central Pennsylvania
Make a valuable investment with a roof that can last a lifetime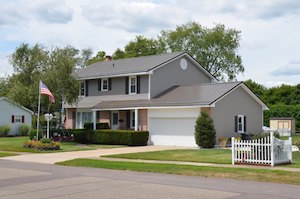 Low-maintenance life. Metal roofing is becoming more popular among homeowners looking for superior durability & energy efficiency.
When you install a metal roof on your home, chances are good that it will be the last roof you ever install. A metal roof provides unmatched durability, lasting 2 to 3 times longer than asphalt roofing. Today's metal roofing shingles are designed to look like traditional materials such as asphalt shingle, clay tile, cedar shake and slate. Our metal roofing division, USA Metal Roofs, offers a wide variety of metal roofing styles and colors to match your home.
If you're interested in replacing your current roof, call us at 1-570-871-4035 or click the button below to schedule a roof inspection today. We provide a free estimate with every consultation in Scranton, Allentown, Wilkes Barre, Hazleton and throughout Pennsylvania, New York, & New Jersey.
Benefits of a metal roof
Long-lasting investment: Although the initial cost for a metal roof is higher than most other roofing materials, you'll save money in the long run. A metal roof can last a lifetime, unlike an asphalt shingle roof which typically requires reroofing every 10 or so years. USA Home Improvement Solutions's financing options make a metal roof even more affordable.
Styles for every home: Metal roofing comes in a variety of styles, colors and finishes. If you want the genuine look of slate, shake, tile or shingle, in a more durable solution, metal roofing may be a great option. USA Home Improvement Solutions has around 20 colors and styles for you to choose from.
Energy efficient: Metal roofing reflects heat to reduce heating and cooling costs year round. All of our options come with a radiant barrier and also meet or exceed Energy Star requirements in efficiency. Altogether, you could save up to 40% on fuel costs by installing a metal roof.
Long warranties: USA Home Improvement Solutions's metal roofing comes with a 40 year warranty on both the paint and the metal because of our special aluminum and silicone finish. Contact USA Home Improvement Solutions to learn more about the metal roofing products we install and the warranties provided.
Answering common misconceptions about metal roofs
Are metal roofs noisy?
Not when installed on solid roof deck. Years ago metal roofing was installed over open rafters and furring strips causing a "pinging" noise. Today our metal roofing systems are installed over solid decking that dampens out the noise, making our metal roofing systems no noisier than a shingle roof.
Will I have to remove my existing roof?
In most cases, a metal roof can be installed over existing shingles without affecting its performance or longevity. This method of installation saves on labor, disposal cost, and landfill waste.
Does a metal roof attract lightning?
A metal roof has no greater chance of being struck by lightning than any other type of roof. Lightning typically targets the highest point in a given area regardless of material. Your metal roof will dissipate electrical charge and is non-combustible so it will not ignite.
Products
Established in 1946, Union Corrugating Company had a single, manually operated corrugating machine. Today, it has grown into an industry leader with it's residential, commercial & agricultural metal roofing products. Their products were designed to be durable, energy efficient, and environmentally friendly. Their 10 manufacturing facilities are located throughout central and eastern US.
Metal Roofing
Union Corrugating provides a variety of quality metal roofing options, including:
Exposed fastener and standing seam systems
Multiple product lines for specific needs
Roof underlayments, flashing, and insulation
A variety of aesthetic options
Energy efficient systems
Excellent warranty options
Get a free estimate for your roof today
The cost of your metal roof depends on the style of roofing and your home's pitch. If you're interested in a metal roofing system, contact us to request a no-obligation consultation and we will provide you with a free estimate for professional installation. Trust the experts at USA Home Improvement Solutions for all your roof replacement needs in Reading, York, Williamsport, State College, Lancaster, Bethlehem, Binghamton.
Looking for a price? Get a no cost, no obligation free estimate.